Pradhan Mantri Gramin Awaas Yojana [PMAY] 2022
[
PMAY] Pradhan Mantri Gramin Awaas Yojana 2022 Pradhan Mantri Awaas Yojana Gramin (PMAY-G) or Pradhan Mantri Gramin Awaas Yojana (PMGAY) is a communal welfare program initiated by the government of India with the intention to provide low-cost housing to the people residing in the rural areas of the nation. This program is in harmony with the government's initiative of providing 'Housing for all' by the year 2022.
Pradhan Mantri Gramin Awaas Yojana [PMAY] 2022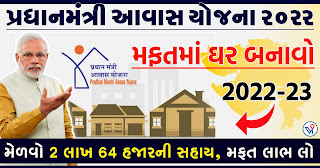 Documents Required for Pradhan Mantri Awas Yojana:
Proof of identity:
PAN card
Voter ID card
Aadhaar card
Passport
Driving license
Photo credit card
Photo identity card issued by the Government
A letter issued by a recognized public authority that confirms the identity of the customer with a photograph
Proof of address:
A letter issued by recognized public authority confirming the identity and residence of the applicant
Rent agreement
Life insurance policy
Residence address certificate
Voter ID card
Aadhaar card
Passport
Proof of income:
Last six months bank statement
ITR receipts
Salary slips for the previous two months
Proof of purchase of the property (if applicable):
Sale deed
Sale/purchase agreement
Property registration certificate (if available)Copy of receipt of payment made to the developer (if applicable)One must make sure that he/she is eligible for the subsidy before application. Also, the applicant should check whether his/her name is present on the beneficiary's list as well to receive the subsidy benefit.
Important Links For PMAY – Pradhan Mantri Awas Yojana
Apply Online And Official Website
How to Apply For PMAY – Pradhan Mantri Awas Yojana
Step 1: Visit the official government website belonging to PMAY.
Step 2: Click on the 'Citizen Assessment' option under the 'Menu' tab.
Step 3: An applicant must enter his/her Aadhaar number.
Step 4: With the successful submission of the Aadhaar number, he/she will be redirected to the application page.
Step 5: The applicant must proceed to enter all relevant details on this page, including income details, personal details, bank account details and other necessary information.
Step 6: Applicants should recheck all information before submission.
Step 7: Once a person clicks on the 'save' option, he/she will find a unique application number.
Step 8: Applicants should, next, download the filled-in application form.
Step 9: Finally, the person can deposit the form at his/her nearest CSC office or a financial institution offering PMAY. He/she must also submit all necessary documents along with the form.
Alternatively, individuals can opt for the offline application procedure and approach an authorised bank branch to apply for the scheme if they find the online process inconvenient.
#yojana #pmyojana